The most influential Chinese newspaper "Sin Chew Daily" and Rawang's Chinese Union co-conduct the "Rawang Carnival", which is held in order to raise fund for constructing the great hall of SJKC San Yuk . As the sponsor, Country Garden also sent out representatives to attend the carnival to promote the 5-star living concept in Rawang.
Though the project of Country Garden haven't launch by now, Country Garden has dedicated herself into local charity. Therefore, the reporters of "Sin Chew Daily" once again attracted to conduct an interview with Mr. Yuan Jiasheng, the regional CEO of Country Garden, in order to have an overall understanding of Country Garden's development blueprint in Rawang.
Dedicated to Chinese education development
According to Country Garden's regional CEO, the reanson why Country Garden endowing Rawang Primary School is that Country Garden and the founder have always attached great importance to charity. And it is said that Country Garden has establish her own education system long before, including IB intentional school, bi-lingual middle school and primary school, and has been honored with "the leader of non-government funded school"
In addition, the founder of Country Garden established Guohua Memorial Middle School on a pure charitable basis with free education as well as living expense of all students are covered. Hopefully, through receiving high-quality education their future can become brighter.
Mr. Yuen said that Country Garden will continue to attend various charity activities and make contribution to the development of Malaysia.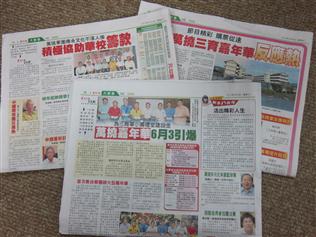 Reports about the "Rawang Carnival"on SinChew Daily
Rawang-the potential city for Real Estate development
Actually the "Carnival " was held in Rawang where one of Country Garden's project locates. And the project is co-funded by Country Garden and the famous local top developer, Mayland. Mentioning about Rawang, Mr. Yuen expresses his confidence, "the house price in Kuala Lumpur is incredibly high so that not everyone can afford, while the house price in areas to the north and south of Kuala Lumpur gradually develop into mature, houses locate there with convenient traffic and comparatively low price is ideal for us to purchase.
Indeed, Rawang has evolved into a prosperous city in these 2 decades, and has been known as the potential city for real estate development. This is also confirmed by the fact that more and more developers and businesses enter Rawang. Connect by the North-South Expressway 1 and Federal Route with Kuala Lumpur, it only takes 30-minutes' drive to Kuala Lumpur from Rawang. That is not exaggerate to say, the areas to the north and south of Kuala Lumpur are the next "Kuala Lumpur" center.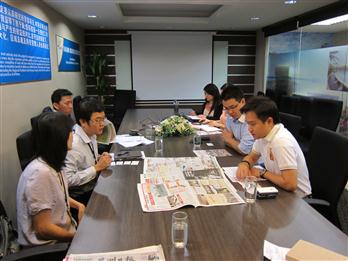 Sin chew daily's interview with our company
5-star living for you
As a developer with 20-years' experience, always promote the living concept that "a serene lifestyle in the vicinity of a bustling city", which means working in the city center, living in the potential development area with convent traffic, wonderful landscape and comprehensive facilities ". Now the far-sighted Country Garden has chosen Rawang and Kajang these two future city centers to constrict her high-end community to provide Malaysia with quality products, comprehensive facilities, considerate service and comfortable living experience. Bringing the 5-star living concept to Malaysia, Country Garden will further promote the development of these two shinning new star. Country Garden, 5-star living for you!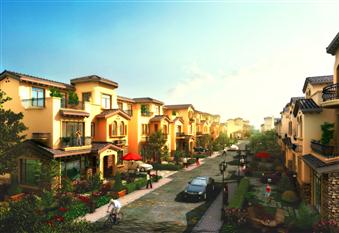 Effect figure of our high-end community