Innovative products lead a new trend in property market
Preface: As one of the top 10 listed China property developer, Country Garden marched into Malaysia with its 20 years' building townships experience, and has been highly concerned.Country Garden plans to build two large-scale comprehensive communities in the rapid developing cities (Kajang&Rawang), which located around Kuala Lumpur.As the leader of China property market, Country Garden focuses more on product innovation; and brings its two classical products to Malaysia, challenging the local modern architectural style.One is European classic style diamond villa, highlighting a royal experience; And another is Spanish classical villa, which outlines an exotic romantic charm.With such rare products in current market, plus its humanized, localized interior design, Country Garden's products will deeply touch the clients' heart; At the same time, it would raise a new trend of pursuing European style villa.
European style villa, which can be inherited like diamond
As a 20-years' experienced villa constructor, Country Garden brings its most high-end product to Malaysia.The European style villa facade which is dedicatedly constructed by dimension stones,not only resembles the highest grade of a successful individual's status and taste,it is also a fortune that can be inherited by generations.
The facade of the diamond villa is totally covered by dimension stone that imported from Europe and they're jointed by corrosion-resistant bolts. Hanging the first-class dimension stones to the surface of the villa demands highly for sound technique. This kind of stone features smooth touch, even color, hard texture and long longevity (because of its salt and wind resistance). As for the carving, each square meter takes 3 craftsmen's 7-day-long effort to finish. These are where the royal feeling lays about.
Spanish style villa, prefect combination of building and sunshine
If the diamond villa resembles magnificence, then Spanish style villa presents a unique exotic charm;The yellowish wall, Spanish stone, reddish-brown roof, vaulted porch, and high-quality ironware, all of these make up to a rich and detailed façade design.What's more, with its perfect combination of passionate architectural style and the sunshine of Malaysia,it enhance the lifestyle in Spanish villa with romance and lovely slice of life.
In fact, Spanish architectural style is the best design to create a snug and comfortable home atmosphere. The spacious living room, warm bedroom, bright kitchen, large balcony and every constructing detail is carefully selected and built. You can spend the afternoon with tea time, chatting and relaxing in living room, sunbathing on the balcony, and even enjoy overflowing fragrance of flowers in the garden. Such multi-purpose and spatial villa would make life more colorful.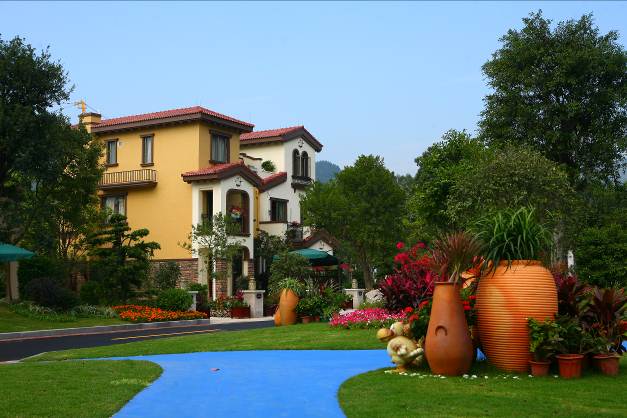 High-quality products fusing tasteful landscape, creates a 5-start community
Country Garden has been paying lots of attention to refine its product during the last 2 decades; meanwhile, Country Garden has never stopped to explore continues improvement the quality of landscape actively.It is said that Country Garden will adapt high-quality Mediterranean landscape to its 2 projects in Malaysia, and all the various plants are selected from the same latitude, so the species diversity and survival rate can be guaranteed.

In order to build a stereo landscape, a multi-angled , multi-layered, and stereo landscape within the limited space,tall trees and low shrub are carefully selected and combined ,creating a beautiful fantasy mixture of both the buildings and nature. Right here, sunshine, red roof, white wall, flower stand and courtyard will satisfy your heart which is craving for enjoyment. Right here, you can inhabit poetically and live freely.