"I made a plan to donate quarterly. I'm not rich, but my donations are all voluntary." Zhang Qiang said. Although he graduated several years, but he still remembered the inscription on the school memorial wall. "The goal of Guohua graduates is to make contributions to society. "
Guohua Memorial High School (Guohua) is a non-governmental school that it is totally free. On 26th June, including Zhang Qiang, 600 graduates gather in Guohua to join the founding conference of alumni association. The grown up graduates established the alumni funds to help current students in Guohua. The initial donation is over ¥600 thousand.
In September 2002, with a donation of ¥260 million, Yeung Kwok Keung, chairman of Country Garden Holding Company Limited, set up Guohua Memorial High School which is charitable and free of charge for all the students. Within 14 years from 2002 to 2016, recruited 2398 excellent students who had difficulties to go to school due to poverty. Until 2016, there are more than 800 Guohua graduates finished their university, 400 of whom continue pursuing postgraduate degree, while the others start their professional career.
On the founding Conference, Yeung Kwok Keung was full of emotional thoughts. He said: "Today is my happiest in my life."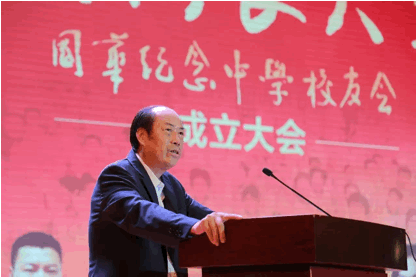 Yeung Kwok Keung are making the speech 
People's Daily ex-vice chief editor Li Renchen knows Yeung Kwok Keung for several years. As a witness of GuoHua development, he said:"There is something tougher than donation of ¥260 million, and it is the heart. Yeung Kwok Keung and the teachers in Guohua Memorial High School dedicate their hearts to the students." Obviously, the creator and the teachers of Guohua consider how to offer students better education.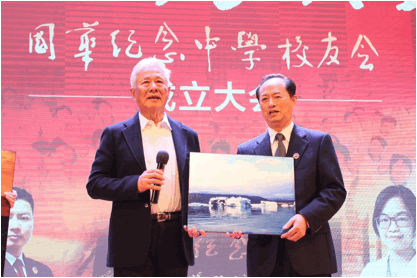 Li Renchen (left) are making the speech
For students, Yeung Kwok Keung and his family, set up a chartable school is their responsibility and motivation. A great man cannot judged by how much money he made, but how many people he can help. The initial thought of establishing Guohua is to hope students can be a helpful person and pass love and warmth to the public.
GuoHua is close to the graduates, because it not only covers the fees in high school but also offer the fellowship to support people who apply for higher education. It gives them courage to continue study.
As the first student in Guohua, Huang Huageng told the story about how he enter Guohua's gate. "The first day I came to Guohua is at around 1:30am. The teacher who pick me up told me I was the first student of Guohua, and I was shocked." Huang is only 16 years old, the unfamiliar environment make he fear. His fear was relieved by the beautiful campus and thoughtful teachers. The high quality of educational equipment and teachers improve his study. Though the university entrance examination, Huang went to Jilin University and studied Law. Then he became a prosecutor in Jiangsu Qidong people's procuratorate. After that, he enter Deheng law office, which is one of the most famous law office in China.
The people who came to Guohua, are moved by the students' confidence, motivation and modesty. However, before they came to Guohua, they struggle with the poverty. Some of them even have self-basement.
The unique Guohua educational philosophy change them. Except free boarding education physical, Guohua offers physical and mental education as well. It is aim to grow students to useful talents in the society.