On July 25th, the Eighth Plenary Meeting of the 11th Foshan Municipal CPC Committee was held to summarize Foshan's economic performance in the first half of 2016. At this delicate moment, Lu Yi, Secretary of the Foshan Municipal CPC Committee, said, "All-out efforts should be made to build an innovation center for national manufacturing industry".
He stressed at the meeting on making strategic plans for the future innovative development of Foshan, endeavoring to fulfill the second hundred-year goal, and building a national manufacturing innovation center with a focus on constructing a "first-tier manufacturing city in China".
As one of the five major development concepts, "innovation" is just like a sharp sword for private enterprises. Besides building a center for manufacturing innovation, we also need to pursue innovation in all industries, including the building industry.
The HQ building of Country Garden is a world-famous green building. With an area of some 30,000 square meters and a floor area of some 160,000 square meters, it's main building measures nearly 100 meters and podium building about 50 meters. The multi-layered vertically-greened exterior walls of the building are just like an imposing forest going straight up.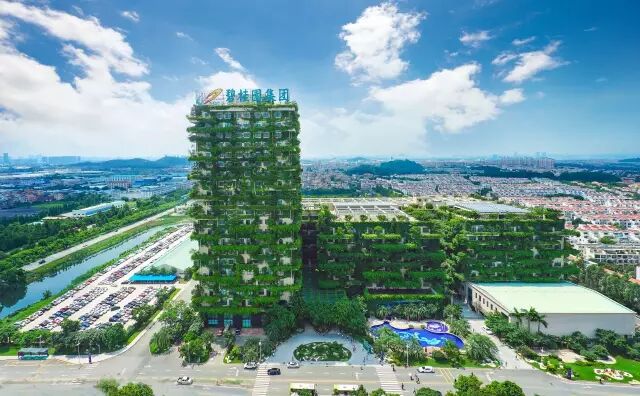 HQ building of Country Garden
The building secured five awards including the Best Habitat & Office Building Case of the 11th (2014) Elite Award set up with the approval of the Ministry of Science and Technology, the 7th Guangdong Zhan Tianyou Guxiang Award for Civil Engineering, and the second award of Guangdong 2015 Outstanding Engineering Design, etc. It also owns the names of 11 engineering technology innovations and key technologies, including the original ecological and energy saving model integrating with greening buildings in China.
Just as Lu said at the meeting, to achieve the long-term strategic goal of Foshan, intelligent manufacturing should be taken as the main direction of enhancing the core competitiveness of Foshan's manufacturing industry, efforts should be made to vigorously transform the mode of "Made in Foshan + Global Market"to"World-class Technology + Made in Foshan + Global Market" and meanwhile fully support private enterprises in growing into a "century-old enterprise".
A "forest city" with an area of nearly 20 square kilometers erected near Singapore, along the Strait of Malacca. In May 2015, the city was granted the Merit Award for Landscape Analysis and Planning, one of the most famous American awards, by the Boston Society of Landscape Architects (BSLA). Bloomberg News hailed it as a "city for the future".
Malaysia's climate nurtures plants well. Based on its years of experience in three-dimensional green design, Country Garden incorporated a multi-dimensional greening system into the design of "Forest City" from the very beginning, and used its advanced technologies to build a "forest city" in Southeast Asia.

Forest City of Country Garden
Country Garden joined hands with Accenture, the largest management consulting and IT company in the world, to develop the "smart city vision" of "Forest City". The city provides diverse smart community services, adopts leading BIM digital management and industrialized construction, and is installed with an intelligent security system with family monitoring and security systems directly connected to public security system and police system.
"Forest City" is also a city integrating industries with landscape. Eight pillar industries, including MICE, education and training, medical care, foreign enterprise settlement, offshore finance, e-commerce base, emerging technologies, as well as the green and smart industry, are developed in the city.
On March 6th, Malaysian Prime Minister Najib Razak announced that "Forest City" would be a duty-free island, adding that it would create 220,000 jobs for Malaysia by 2035, especially in the fields of finance and e-commerce. Besides, "Forest City" was approved to establish an independent customs.
This is a high-profile presence of Foshan's innovation forces in Southeast Asia, showing the tremendous strength of Chinese brands to the world.