Today when those born in the 1970s, 1980s and 1990s have become the main housing buyers, Country Garden has taken steps to rejuvenate its brand. On the morning of July 31st, Country Garden signed a strategic cooperation agreement with New Silk Road and Thaihot Creative Industry on brand marketing, designing and promotion, as well as advertising service.
Cheng Guangyu and Zhu Jianmin, vice president of Country Garden, Li Bing, Chairman of New Silk Road and Lin Yusheng, CEO of Thaihot Creative Industry and other executives attended the signing ceremony at Taishan Country Garden Phoenix Hotel, Guangdong province.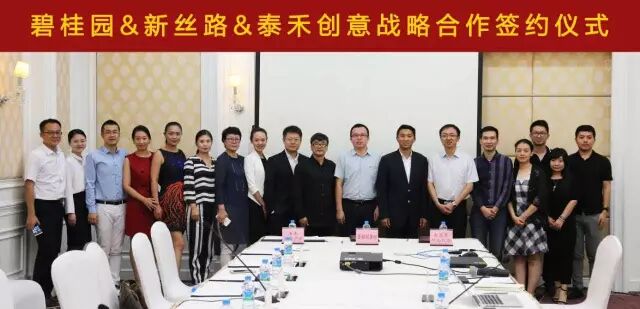 Signing Ceremony of the Strategic Cooperation Agreement
As one of the top 500 listed enterprises of Forbes Global, Country Garden has moved into over 300 towns in China as well as countries such as Malaysia and Australia, with over 500 projects and more than three million owners across the world. It achieved sales of some 125.1 billion yuan in the first half of 2016, ranking among China's top three real estate developers. Now it is developing Country Garden Forest City adjacent Singapore---the world's first multi-layered modern city, covering an area of nearly 20 square kilometers.
New Silk Road (NSR) is not only the oldest and largest professional model agency with world recognition in China, but also the flagship of China's fashion industry. Having been committed to disseminating fashion culture over the past two decades since its establishment, NSR has been a leader of the fashionable lifestyle of China. It has cultivated many world-renowned models for China's fashion industry such as Qu Ying, Ma Yanli, Jiang Peiling, Xie Dongna, Wang Haizhen, Yu Na, Zhen Ni, Du Juan, Liu Wen, Hu Bing, You Yi, Zhang Xinzhe and Meng Fei, and produced the Champion of the Miss World- Zhang Zilin, thus NSR has been reputed as the "cradle of Chinese supermodels" and an "bridge to the world".
Thaihot Creative Industry is a first-class advertising enterprise in China, a key cultural enterprise in Shenzhen, as well as a leading domestic provider of creative content and an operator of interactive marketing platform. Over the past 17 years, it has served over 300 customers and 1,600 brands in more than 70 medium and large cities. It has been recognized by many top brands for its creative solutions and professional services. The outstanding customers it has served for more than ten consecutive years include Huawei, China Overseas, China Resources, Vanke, Overseas Chinese Town, Suning, Wanda, Yantian Port, SF Express, Bank of China and Industrial and Commercial Bank of China. As the brand service provider for cities such as Shenzhen, Ningbo, Chengdu, Zhuhai, Qujing and Sansha, it is constantly creating value for customers by offering strategic services.
In the future, Country Garden, New Silk Road and Thaihot Creative Industry will gradually carry out all-round cooperation to integrate the development of real estate, fashion & fitness and cultural creativity. Based on the "Belt and Road Initiative", they will export the brand culture strategically, enhance the influence of global smart eco-cities, and serve the brand and marketing of Country Garden.