People's wellbeing is dependent on the country's or the region's social and economic development instead of the declaration of politicians. As disturbances arose repeatedly in the South China Sea, a bunch of green buildings swiftly rose from the sea level near Johor Bahru, Malaysia: China's Country Garden Group created a world-class urban area, called Forest City, by building four artificial islands at the border of Singapore and Malaysia, which is known as Heater of Southeast Asia and is also an important hub and joint area of "the Belt and Road Initiative"; in the next 20 to 30 years, the investment will total about USD 100 billion. To respond to the requirement of the Malaysian government for green construction, prefabricated buildings will be introduced into the new city with an area of 20 square kilometers, and the concrete prefabricated components will be important green elements of the forest city. For this reason, Country Garden built partnership with EBAWE/PROGRESS GROUP, an international leading company in the manufacturing of concrete prefabricated components, to introduce the world-class automation production equipment. On July 28th, a delegation led by Su Bai yuan, executive director of Country Garden, visited the HQ of PROGRESS GROUP and held a signing ceremony of a cooperation agreement for equipment procurement with Froschmaya, Chairman of EBAWE/PROGRESS GROUP.
Froschmaya, chairman of EBAWE/PROGRESS GROUP, and Su Baiyuan, executive director of Country Garden, sign a cooperation agreement
The Forest City built by Country Garden was structured with multi-layered urban planning concept, including two floors underground as traffic network and parking space and one floor above the ground for residential use. The ground structure of buildings was built using pre-stressed floor slab, and 36 floors above the ground were made of concrete prefabricated components, including solid wallboard, pre-stressed floor slab,  prefabricated beam and column, and prefabricated stair. To highlight the characteristics of green buildings in Forest City, houses were designed with prefabricated shear wall structure, in which concrete prefabricated components were applied to the most extent. EBAWE/PROGRESS GROUP has built its first production facility of concrete prefabricated components for the purpose of the Forest City project, which was equipped with five production lines and one set of reinforcement processing machinery: two production lines for pre-stressed reinforcement floor slab, three assembly lines for automatic rotation, and one set of reinforcement processing machinery including automatic reinforcement mesh welding machine and bending machine. For the management of the entire prefabricated parts base, ERPBOS software with proprietary intellectual property rights is used to achieve the integrated production process control and overall operation and management of the facility.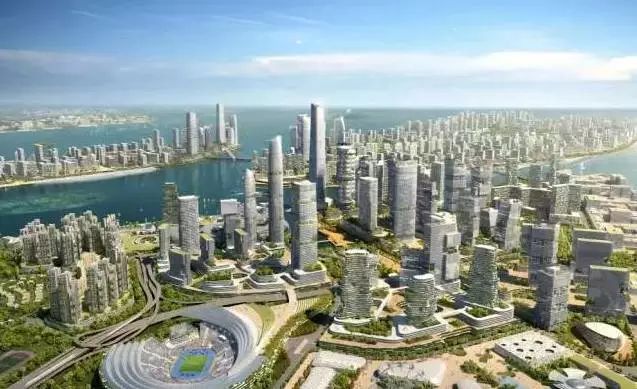 Sketch Map of Country Garden Forest City
"Green Buildings" are the hotspot and highlight of the Forest City project, which are not only covered by many green plants, but also fully embodies the concept of "green" through the prefabricated parts produced by EBAWA GmbH: concrete materials for each of prefabricated parts were accurate down to kilogram, calculated by central control system, and S-shaped rotary system in concrete feeder could ensure the full and even mixing and prevent the uneven distribution or falling-out of concrete. In production of prefabricated parts, enclosed magnetic side-mode was used, on which no openings were reserved in advance to avoid concrete grout from leakage after mode setting. The production line used fully automatic reinforcement process equipment including intelligent flexible reinforcement mesh welding machine. Buildings in Forest City need a large number of solid wallboards, in which space for windows and doors is reserved; intelligent flexible reinforcement mesh welding machine can be used to reserve positions for windows and doors on meshes through central control system, so that broken reinforcement scraps can be fully avoided. The whole production line was equipped with a complete waste residue transport system by placing a conveyor belt to ensure that at any workstation that might produce waste concrete, waste residues could be continuously transported into the residue collection box outside the workshop through the conveyor belt. The concept of "green" represents material saving, and at the same time means mitigated harm to human body imposed by noise. Noise produced by the vibration table adopted by the production line was controlled under 75dB, which greatly reduced noise pollution and fulfilled the requirements of green production in eliminating noise.
Su Baiyuan, executive director of Country Garden, and his delegation visited EBAWA GmbH's modern production lines in Munich and the HQ of PROGRESS GROUP, and were impressed with the above characteristics of production equipment of prefabricated concrete components which is "made in Germany". During the talk with the president of PROGRESS GROUP, Su Baiyuan, executive director of Country Garden, stated that Country Garden will not only make every effort to promote prefabricated building in the development of the Forest City project in Malaysia, but also will further carry out strategic cooperation with EBAWA/PROGRESS GROUP in experience accumulation and team building to promote its presence in the market of Southeast Asia. And at the same time, it will get ready in technology and equipment for its entry into the building market of mainland China where Country Garden has tens of millions of square meters of development area every year. Mr.Froschmaya, chairman of EBAWE/PROGRESS GROUP, also showed his great interest and would kick off their strategic cooperation project as soon as possible.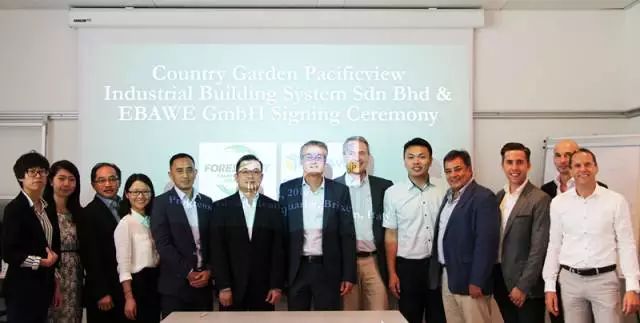 Members of both delegations take a group photo to celebrate the successful starting of cooperation.