The release conference of Country Garden's "City and Industry Integration Strategy" and its kick-off meeting of "Tech Town" were held in Shunde, Guangdong, in the afternoon of August 9 announcing that it will invest more than 100 billion yuan to build "Science and Technology Town" and bring in Tsinghua University, Ping An Bank, Innovation Works of Kai-Fu Lee, Cisco and other enterprises.
It is claimed that the towns will be built around first-tier cities or within 30-80km from second-tier cities, covering an area of more than 5km2.
One of them is located in Huangjiang, Dongguan. It is reported that the Tech Town in Huangjiang is close to Huangjiang Exit of Dongguan-Shenzhen Expressway and covers a total area of about 5 km2, including a total area of about 0.65 km2 in the initiation area. The entire construction content includes overall planning, investment, construction and operation. Country Garden is ready to turn it into a comprehensive high-tech industrial cluster that integrates production, research, trade, financial service and other functions.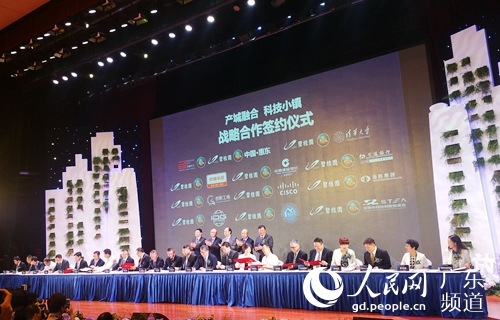 Country Garden signs cooperation agreement on "Tech Town" with partners.