JOHOR BAHRU, Malaysia, Jan. 30, 2018 /PRNewswire/ -- The Forest City Golf Resort, valued at RM1.8 billion is poised to be another prestigious championship golf course in Johor, making the state a premier golfing destination.
It is also set to redefine golf tourism to embrace the "complete golf holiday experience."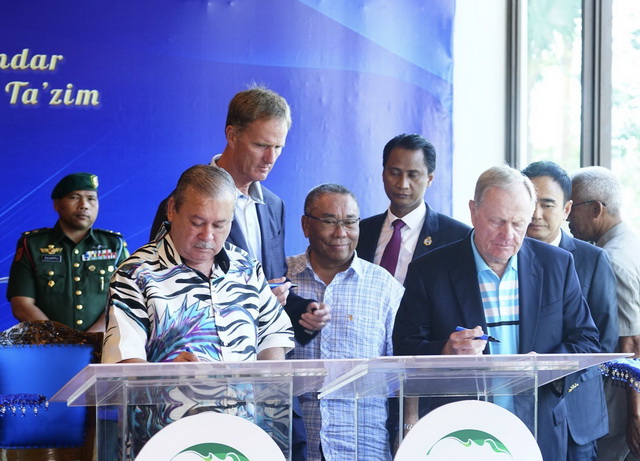 Jack Nicklaus named the golf course as Forest City Legacy Golf Course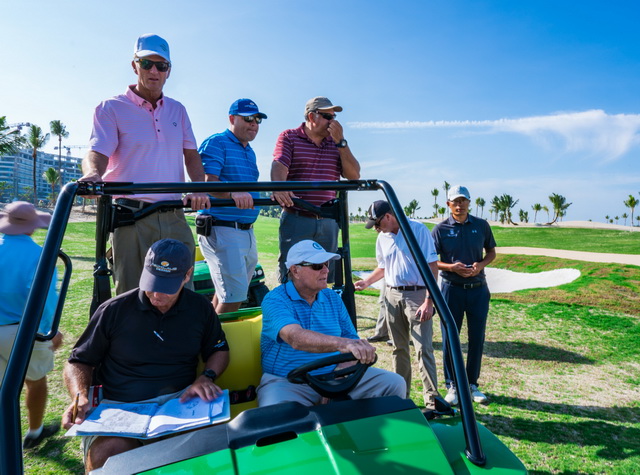 Forest City Legacy Golf Course

"Golf courses were mushrooming throughout the state in the early 1990s but a price war among the competitors, failure to add value to the golf packages and a lackadaisical attitude in upkeeping maintenance have affected the booming golf industry in Johor," said Col. Mohd Jamal Salleh, President of Johor Golf Tourism Association.
"The Forest City Golf Resort, offering a tri-course, with the first 18 holes designed by Jack Nicklaus and his son, is expected to further be a part of the bigger players in Johor to revive and add more value to the state as a golf paradise once again," he said.
Mohd Jamal's optimism is supported by the fact that Johor has the highest number of foreign direct investment, having a world-class golf resort will bode well with businessmen who also have a penchant for golf, as it provides the perfect setting for a warm-up session to a business discussion.
"A Date With Jack Nicklaus - the Golfing Legend" - a preview programme on what the golf resort has to offer - has brought His Majesty, the Sultan of Johor, DYMM Sultan Ibrahim Ibni Almarhum Sultan Iskandar and golfing legend, Mr Jack Nicklaus to the Forest City Golf Resort here today.
Country Garden Pacificview Sdn Bhd (CGPV) has to date spent RM309 million on developing the golf resort which has three golf courses, a hotel and residential units.
Johor boasts the highest number of golf courses in the country, with 27 state-wide to date. Of these, it is believed that there are only 5 that have tri-courses.
The Visit Malaysia Year 2020 (VMY2020) is expected to attract 36 million tourists to the country generating RM168 billion in tourist dollars, reportedly announced by Prime Minister Datuk Seri Najib Razak in the tabling of Budget 2018 last October.
Datuk Md Othman Yusof, Executive Director of CGPV, said in his welcome speech that the first golf course named Forest City Legacy Golf Course, would give golfers the experience and affordability that are not found in other golf courses.
"Being only a stone's throw away from the Woodlands checkpoint, this golf resort will attract international golfers, residents and visitors," Md Othman said.
With robust growth in Gelang Patah, Md Othman said he believed not only will the golf resort give a boost to the tourism sector, the locals will also enjoy the spillovers of the development, in particular, job and business opportunities.
Md Othman said the Forest City Golf Hotel, which is expected to be completed by mid 2018, will offer a total of 460 job opportunities with 250 vacancies in hotel and 210 for the golf course.
"A total of 100 per cent of the staff at the hotel are locals," Md Othman said, adding that the Golf Resort is being built under the second phase of Forest City.
"It is good news to golf enthusiasts from home and neighbouring countries, providing them with a notable experience, as the golf course showcased the masterpiece of someone who has designed more than 300 golf courses all over the world.
"Having our first golf course designed by a legend already sets the benchmark for our landscape design at CGPV. When fully completed, the Golf Resort is expected to have a total population of about 1,300 residents while the five-star hotel will cater to visitors from across the globe," he said.
Aside from the three 18-hole golf courses, the area offers easy connectivity when a new expressway that links the Golf Resort to Forest City is ready soon. This will cut travelling time between the two destinations from the current 30 minutes to 15.
With a Kuala Lumpur-Singapore High Speed Rail station planned within Iskandar Malaysia, this will offer seamless accessibility to Forest City.
CGPV is also building a connecting road stretching 9.6km from Forest City to the golf resort, which will be ready next year.
Meanwhile, Jack Nicklaus said the golf course was fully man-made as there was nothing there before.
This new development spurs Forest City as a green liveable city with global aspirations. It will complement the other current offerings in Forest City such as residential, retail and leisure, among others.
"We had to work the ninth and 18th greens around a hill, and the golf course has beautiful river views. From a player's standpoint, the golf course we have designed is unique as golfers cannot find anything like it in Singapore or Malaysia," he added.
Although the terrains are challenging, the golf course was built with the amateur golfer in mind, as well as for handicappers and professional golfers.
About Country Garden Pacificview Sdn Bhd
Incorporated in Malaysia on 29 April 2013, Country Garden Pacificview Sdn Bhd (CGPV) is the master developer of Forest City, Southeast Asia's largest mixed-use green development at Iskandar. CGPV is a joint venture between Country Garden (60%) and Esplanade 88 Danga Bay Sdn Bhd (EDSB), an associated company of Kumpulan Prasarana Rakyat Johor (KPRJ).
About Forest City
The Forest City is a 30km2 mixed-use development located at Iskandar Malaysia. Adjacent to the Malaysia–Singapore Second Link, it is a JV development between Country Garden and Malaysian partner Esplanade Danga 88. With a committed investment of approximately US$100 billion, it comprises of four reclaimed islands with the twin themes of 'integrating businesses and the city' as well as 'urban innovation'. The project aims to generate economic growth through eight key industries -- tourism and MICE, healthcare, education and training, regional headquarters, nearshore finance, e-commerce service base in ASEAN, application of emerging technique and service centre, and sectors related to a green and smart city.
SOURCE Forest City